New Safety Measures for Massage Therapy
We have worked diligently to update our already-stringent sanitation and safety standards. We have introduced further protocols as recommended by the CAMTC (California Massage Therapy Council) and the CDC (Center of Disease Control).
Our focus has always been to create the highest quality experience and environment for our employees and guests.That intention is stronger now than ever before.
We have raised the bar of sanitation and hygiene, taking into account every step of your experience with us to ensure we meet your needs in a diligent and safe manner. As always, your well-being remains our top priority.
At your next visit, you might notice some changes, as we have begun to implement new procedures and policies to promote the health and safety of our clients and staff.
New Safety Measures for Massage Therapy

Online Intake Forms
We've removed all non-essential paper elements. Our intake forms will now be available online.


Cancel If Your Are Sick
Please reschedule if you or anyone in your social circle are sick

Temperature Check
We will ask you to reschedule your appointment if your temperature is above 100.4 degrees. Your therapist is also taking their temperature.


Facial Covering
Both massage therapist and client will wear a facial covering through the duration of the massage.

Handwashing
Please wash your hands upon arrival, and again before leaving our office. Hand sanitizer works as well!

HEPA Air Purifiers
Each room throughout our space is equipped with a High-Efficiency Particulate Air filter help prevent exposure to viruses.

Limit Conversation
For now, we ask to keep conversation to a minimum. This will help reduce airborne particles and allow us more time to clean!

Physical Distancing
Whenever possible we are maintaining a physical distance throughout the office, but obviously not during a massage!

Enhanced Cleaning
We were clean before, but we have added many new cleaning protocols to provide you and our therapists a safer environment.

Sorry, No Hugs
As much as we would love it, please refrain from handshakes and hugs.
We've outlined the new safety measures for massage therapy below: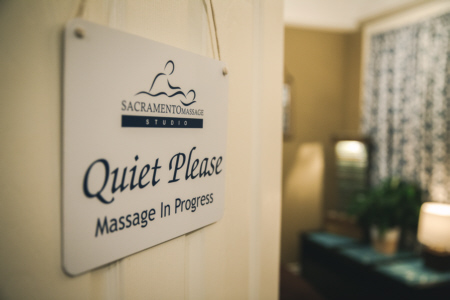 WHAT TO EXPECT AT YOUR NEXT APPOINTMENT:
We are excited to share our healing space with you once again. Here is what we are committed to, and what we ask our clients be aware of. The following standards and requests are to help us ensure your comfort and safety as well as that of other clients, and our team.
WHAT SACRAMENTO MASSAGE STUDIO IS COMMITTED TO:
Strengthened cleaning and disinfecting procedures, including 15 minutes between each appointment to deep-clean treatment rooms and common areas.
At present, we are already meeting or exceeding all state, local, and regulatory guidelines relating to sanitation and hygiene. All disinfectants used in the studio are verified to ensure they meet the EPA's criteria for use against SARS-CoV-2, the virus that causes COVID-19.
We have implemented employee temperature screenings at the start of their shift to guarantee a temperature of 100.4F or lower (in accordance with CDC recommendations). This will make certain our team is well and ready to provide you with excellent bodywork service.
All team members will wear a mask when in the waiting room as well as during any client interaction.
We have educated our team on these matters, with special emphasis on sanitation and hygiene standards.
WHAT WE ARE REQUESTING CLIENTS TO COMMIT TO:
We will be screening clients with a temperature check prior to their service. (This will be done by checking a person's temperature with a touchless thermometer.) Clients presenting a temperature of 100.4 or higher must reschedule their appointment–no late cancel fee or penalty will be applied.
In an effort to maintain physical distance, please do not arrive more than 5 minutes early to your appointment. Additionally, we will no longer allow guests of clients to remain in the lobby after their appointment.
As much as we love them, for now we are avoiding hugs and handshakes.
We will request an affirmation that you are not sick or have not been around anyone that has been sick.
We require that you wear a face mask for extra precaution. If you need one we will have some available for you.
TO OUR VULNERABLE POPULATIONS:
Populations that are especially vulnerable to COVID-19 may have stricter and extended shelter-in-place recommendations. This includes clients who are 65 years and older, and those with conditions such as heart disease, lung disease, diabetes, and suppressed immune systems. Until future notice we are strongly encouraging this population to take our first appointments of each day. Please email us at :Relax@SacramentoMassageStudio.com, and we will find an appointment for you.
Now, more than ever, we need bodywork.