Corn and Garbanzo Bean Salad Recipe
with Cilantro Lime Dressing
Summertime calls for bright, refreshing, and nutritious meals. Our Corn and Garbanzo Bean Salad recipe fits the bill perfectly. With a burst of vibrant flavors, this salad can be enjoyed as a satisfying main or a delightful side dish.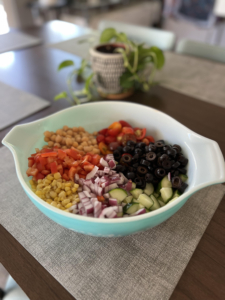 Ingredients:
For the Garbanzo Bean Salad:
2 1/2 cups corn kernels
2 15-ounce cans garbanzo beans, drained and rinsed
3 cups grape tomatoes, quartered (about 1 pound)
1 cup fresh green beans, blanched then cut into 1/2 inch sections
1/2 red onion, finely diced (about 1/4 cup)
1 English cucumber, chopped
For the Cilantro Lime Dressing:
1/3 cup extra virgin olive oil
1/4 cup fresh cilantro, chopped
1/4 cup (4 tablespoons) lime juice
1 clove garlic, minced
1 teaspoon salt
1/2 teaspoon pepper
Instructions:
Prepare the Salad Ingredients: In a large bowl, combine the corn kernels, garbanzo beans, grape tomatoes, green beans, red onion, and English cucumber. Toss to mix well.
Create the Cilantro Lime Dressing: In a separate bowl, whisk together the olive oil, cilantro, lime juice, garlic, salt, and pepper until well combined.
Combine and Chill: Pour the dressing over the salad ingredients, stirring to coat evenly. Refrigerate for at least a half an hour, allowing the flavors to blend. Keep chilled until serving.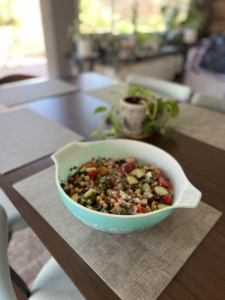 Tailoring to Your Taste:
This Corn and Garbanzo Bean Salad recipe is customizable to your preferences. You can replace the green beans with bell pepper to change the flavor profile. The crunch of bell pepper adds a classic touch, while the green beans bring a garden-fresh quality.

Perfect for summer gatherings or as a quick, healthy lunch option, this salad pairs beautifully with grilled chicken or shines as a stand-alone vegan dish. You can even top it with grilled salmon. The images we used here today had red bell peppers instead of green beans, and grilled chicken.
Love the serving bowl? We do too. It's an old Pyrex pattern, you can find them for sale on Etsy and othe vintage/thrift shops.

Indulge in this colorful salad and savor the symphony of fresh and tangy flavors!
---
Other articles you might also be interested in: Summer Self Care Rituals
---
Tag: Corn and Garbanzo Bean Salad Recipe